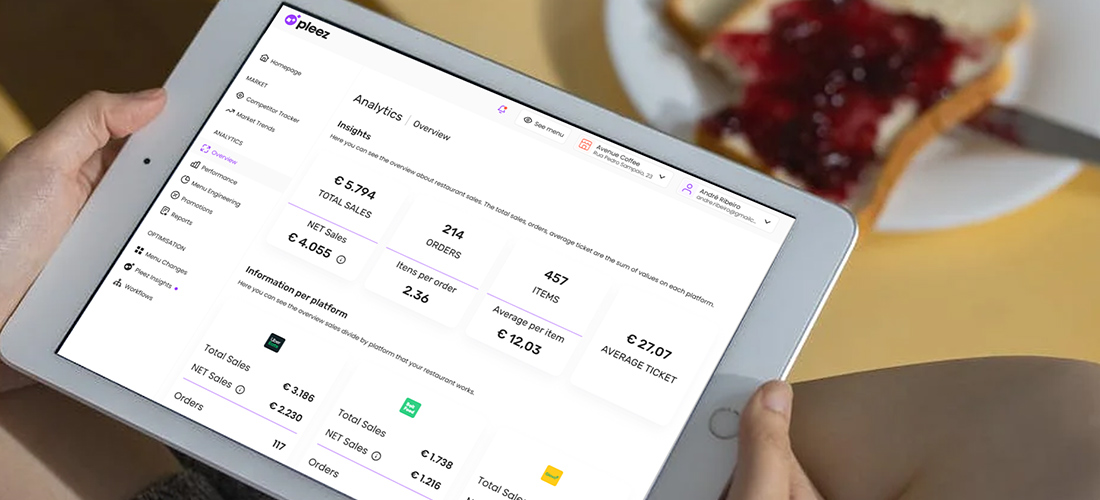 Sales through delivery platforms, profitable or loss?
Best practices to increase and improve your restaurant's sales
The pandemic has been a recurring theme in the various sectors, but in this case it is important to take into account the way in which it affected the restaurant market, the food delivery businesses, and the acceleration on restaurant's engagement with digital technologies.
Did you know that the worldwide online food delivery market is predicted to register a CAGR (compound annual growth rate) of 6.24% during 2022 to 2027?
Due to an increase on convenience goods services to choose from, caused as a response to changes in demand patterns, delivery services have gained relevance in recent years. With these changes, delivery platforms can take advantage of the increasingly rapid adoption of digital services by consumers.
Hence, it is crucial for the restaurant industry to recognise all these changes and not only adapt to their consumers' needs but to also create a distinct added value – effective digital business transformation provides a competitive advantage.
If restaurants ignore the importance of technology, they will be unable to meet the digital natives' demand and be left behind in the process.
To be successful, the strategic focus of restaurants must be on creating new opportunities. Nowadays, these new opportunities are more easily developed based on real facts based on the collection of data from customers – data on choices made in the past and consumption behaviour -, thus being able to meet their needs.
This 'meeting the consumer's needs' it's getting increasingly easier, also through the presence of restaurants on delivery platforms, as they have the opportunity to expose themselves to a wider consumer base and, consequently, attract new customers.
Even so, it is important not to forget that restaurants' need to be very cautious with consumer demands, as consumers do not identify future needs until someone creates solutions and, suddenly, they cannot live without these solutions – meeting the growing demands is fundamental to stay ahead and gain competitive advantage. Convenience is the main driver of consumer behaviour, so it is important for restaurants to be aware of digital changes and not miss unique opportunities, especially those that are offered through platforms.
Food sold through platforms provides the restaurant with lower profits per meal due to the additional cost of being on the platform. On the other hand, restaurants still manage to obtain a large part of their income through platforms such as Uber EATS, Glovo and Bolt, and thus create new sources of revenue.
💡 On the client's side, on average, they spend more money when ordering food online, and restaurants do not incur the same human resource cost related to delivering food at home service.
However, for this digital transformation to be successful it requires five things: (1) clear digital strategy, (2) visualisation and understanding on technology's influence in all areas of business, implying organisational transformation, (3) digital mindset that is lived and pushed by managers, (4) digital fluency at the executive level, and (5) risk taking as a standard.
The implementation of digital transformation is not only based on recognising its transformative opportunities, but first and foremost on the vital need to not be left behind in the market fluctuation caused by the digital transformation of industries.
Today, restaurants face a digital threat: when consumers want to order food online but can't find the restaurant online, they simply choose another restaurant.
Have you evaluated your strategy? Do you want to increase your sales on delivery platforms and reduce their costs at the same time?